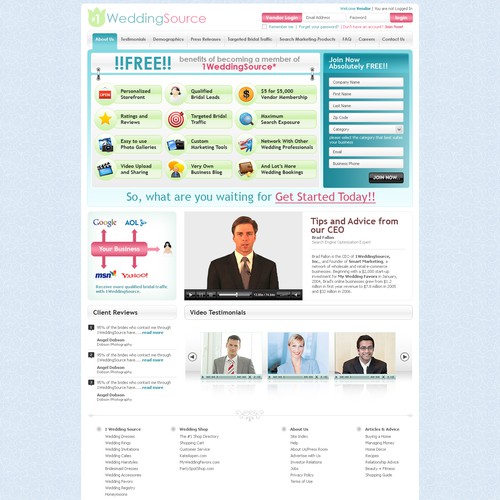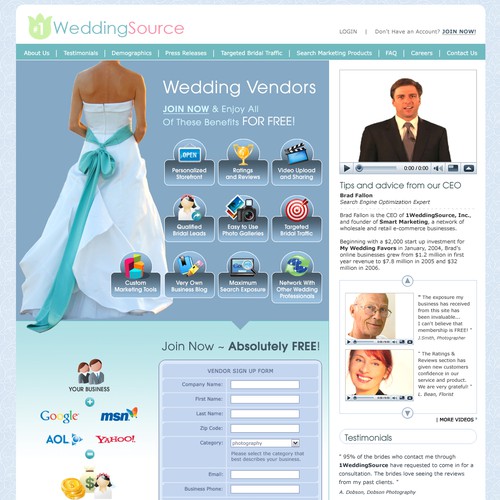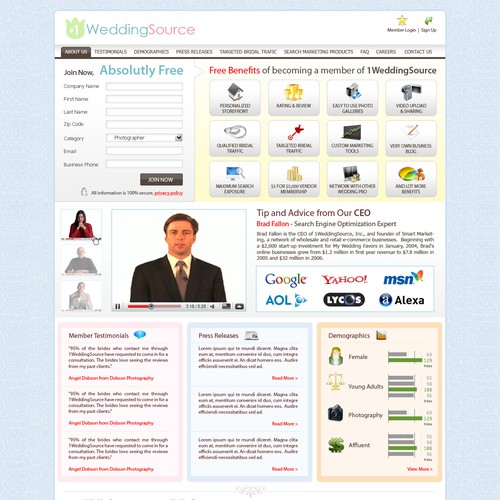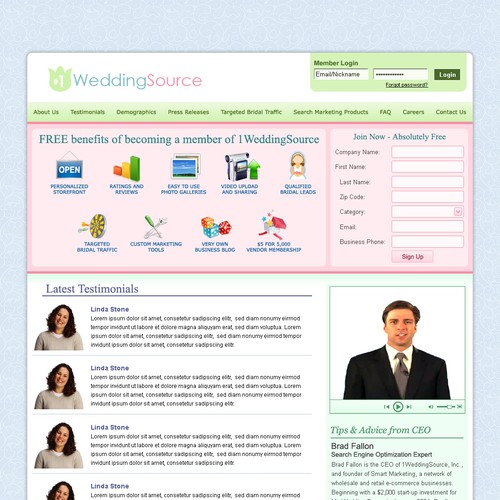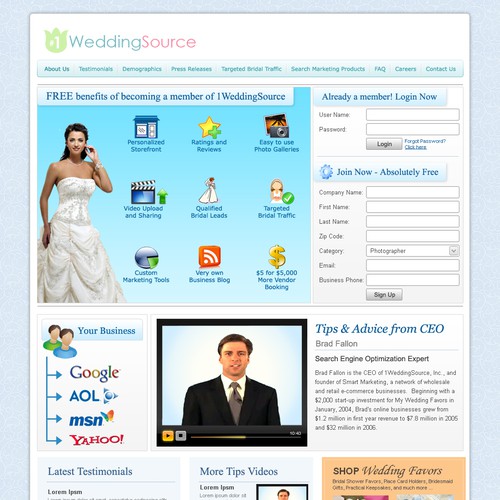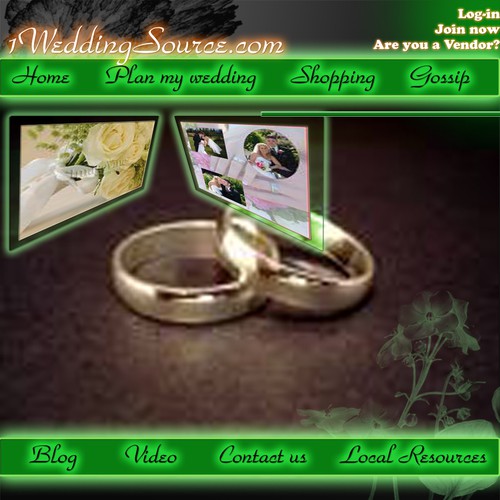 One of the designers who made it happen
Winner - webknix
- Sandbox1
How 1WeddingSource started their web page design journey
Summary
OK..so here we are again. After getting our design and logo from 99Designs, we love this site. Our goal with this page is to entice Professional Wedding Vendors (DJ's Photographers, etc..) to advertise on our site....Oh yea...it is absolutely FREE. With enough wedding vendors participating and our new CEO "a SEO" expert, we intend of becoming a dominate leader in the online wedding space. PSD file only!!
What inspires you and how do you envision the design for your business?
The main GOAL of this page is to display all the FREE benefits of becoming a member of our site.  This page is strictly targeting Professional Wedding Vendors...not brides.  The Goal is to display all the FREE benefits and get a Wedding Vendor to Opt-In with just a few fields to fill out and BOOM....they now have access to all of these great useful and easy to use tools and benefits to market their business and increase wedding bookings.
Wants
- Our Homepage: http://weborizeit.com/proj/html/1weddingsource/
- Please keep the same blue/pattern background as well as static logo to the top left.
- Must also include a box that reads: LOGIN TO YOUR ACCOUNT with an email field and Password Field.  also a check bot that reads remember me...log in button and text link that reads Forget your password? Almost identical to http://www.weddingwire.com/vendor/VendorHome but have it match our site.
- Navs to include:- About Us
- Testimonials
- Demographics
- Press Releases
- Targeted Bridal Traffic
- Search Marketing Products
- FAQ
- Careers
- Contact Us- Main objective is to Display all of the FREE benefits of becoming a member of 1WeddingSource....and emphasize the word FREE. We would like to create cute but business professional cartoony icons for each of the benefits.  Benefits to include:- Personalized Storefront
- Ratings and Reviews
- Easy to use Photo Galleries
- Video Upload and Sharing
- Qualified Bridal Leads
- Targeted Bridal Traffic
- Custom Marketing Tools
- Very own Business Blog
- $5 for $5,000 Vendor Membership- This is a membership that Brides will pay $5.00 (one time fee) and have the ability to see about $5,000.00 + in Wedding Savings and Discounts that our active wedding vendors will participate in...For example...a limo guy might throw up a promotion...2 Free additional Hours with booking before Dec 15th...when mentioning this code LIMO2FREE (Value $700.00 @ $350.00 per hour)
- Maximum Search Exposure
- Network with other Wedding Professionals- The Top Right Quartile "above the fold"  there should be a small to mid sized Video Box that will play a Video of our CEO Speaking.  Under neath the Video Player please put: Tips and advice from our CEO, "Search Engine Optimization Expert" Brad Fallon. Then a brief Bio of Brad that reads "Brad Fallon is the CEO of 1WeddingSource, Inc., and founder of Smart Marketing, a network of wholesaleand retail e-commerce businesses.  Beginning with a $2,000 start-upinvestment for My Wedding Favorsin January, 2004, Brad's online businesses grew from $1.2 million infirst year revenue to $7.8 million in 2005 and $32 million in 2006." Use something like this: but smaller to apply to the design - a video of Brad: http://freeiq.com/bradfallononthevi…eeiq...but make the video box slightly nicer.
- Underneath that I would like to include 2-3 smaller Video Testimonials.
- I would also like to include about 3 text testimonials.  Something like "95% of the brides who contact me through 1WeddingSource have requested to come in for a consultation. The brides love seeing the reviews from my past clients." Angel Dobson from Dobson Photography
- Make this stand out "Join Now - Absolutely FREE"
- Ask for these fields: "STEP 1"- Company Name
- First Name
- Last Name
- Zip Code
- Category: Drop Down "Photography"
- also please disclose "please select the category that best suites your business."
- Email
- Business Phone:
Don't want
- Try not to use the word ADVERTISE.
Free features
Open contest

Fast-tracked
We've found some similar contests you might like