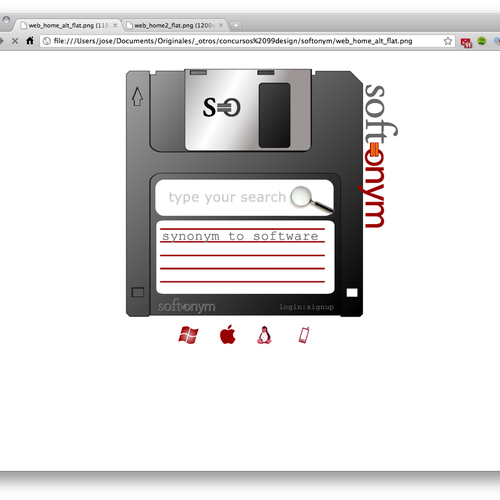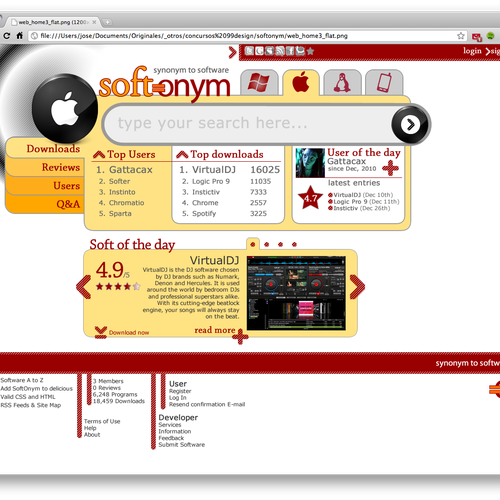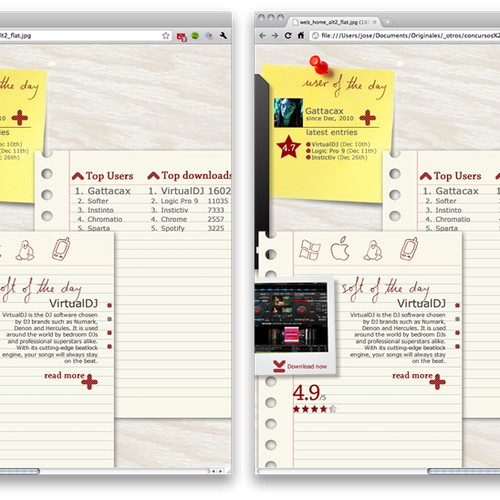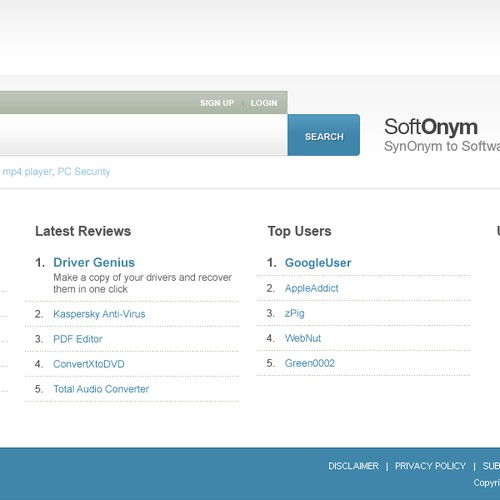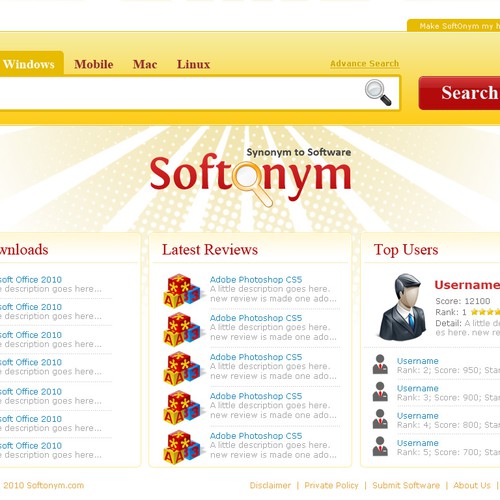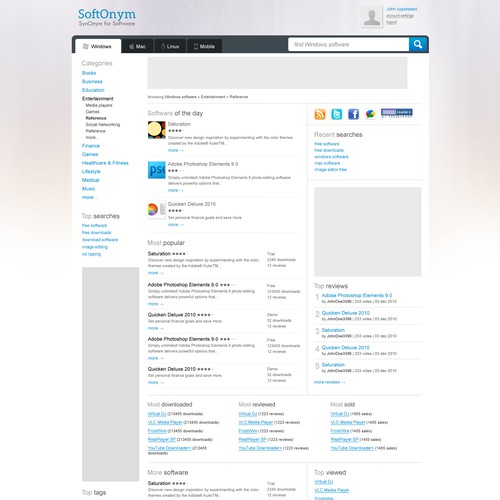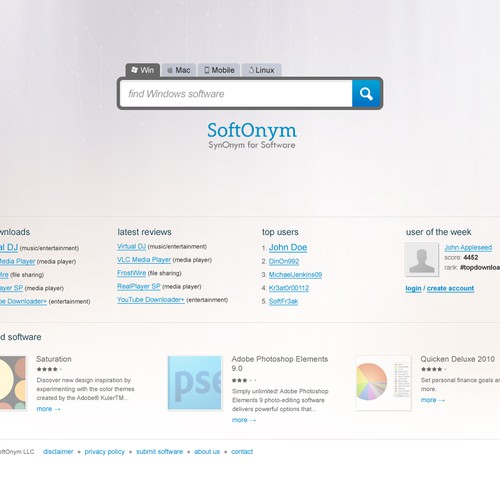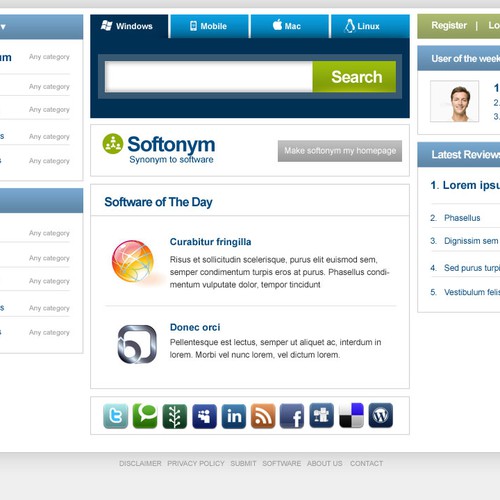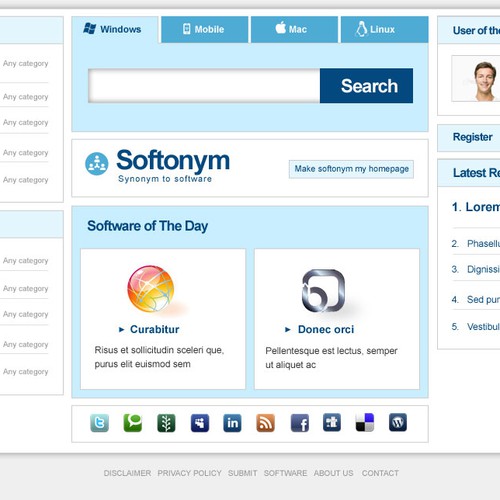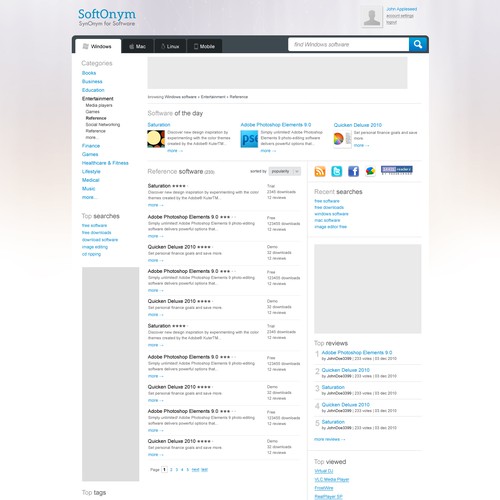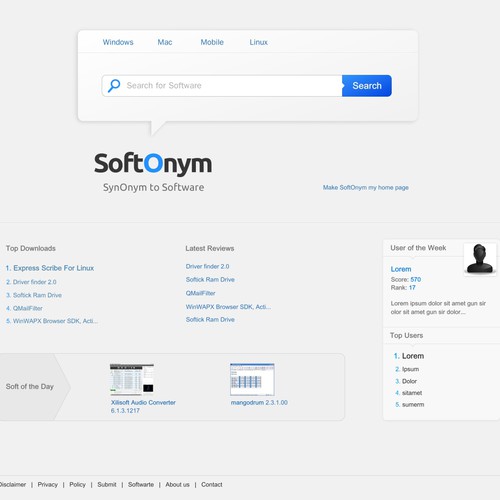 How Mihai Pavel started their web page design journey
Company name
Overview
Hello, we are trying to launch our software portal (www.softonym.com
– Synonym to Software) in January 2011 .
Our site will make the search for software a very easy and quick job.
Everyone who looks for :
- downloading software
- software reviews
- News
- How to
- Question & Answers
- People with similar interests ( Community)
should find quality content, latest updated software and very active comunnity providing user generated and unique content. Our aim is to develop a Web 2.0 portal and design approaches should follow this criteria.
Tell us a bit about who you are and the people you reach
We mainly target young people who are very active online and on social networks (age 18-40) who like to use laptops and phones very often and who like to use the web to exchange ideas, how-to, audio and video content
Requirements
The site should be "user-friendly" meaning that users should find information without wasting a lot of time. Since the site will have a large amount of information changing many times per day, it is necessary design should be very well structured and organised so the user can get familiar with site features and browsing very quickly. The user should not feel lost browsing the site. We would that the audience find our site a reliable source of information, a trustworthy source for downloading software.
Colors
Background should be white or a very light gray nuance or similar that will not make user's eyes tired easily
Please do not use a wide range of colors for different items of the site. Simplicity but good taste is essential
Visual
Our graphical identity is not yet defined, we don't have a logo yet or other graphical elements. However, we intend to extend cooperation in future with winner of the contest for designing the other visual elements. We welcome suggestions matching the design for these elements (logo, avatars and ranking for users)
Fonts
Fonts should be recongnized by all browers installed on different machines, including mobile devices. Fonts should follow the simplicity of design mentioned earlier.
Social
We would like to offer to our users a wide variety of interaction with social networks, please consider adequate space for social networks buttons
Page descriptions
A more detailed brief can be found as attachment in uploaded files
Home Page
This is the first page user will see and it should be simple, clean and intuitive to allow the user to make a quick decision. The main focus of the page is the "Big Search Box" in the middle. The other features on the page should be a lot more smaller. Logo should be exactly under the "Big Search Box".
Category Page
The page should have a horizontal bar at the top, with Softonym logo and slogan, Categories Tabs, the search box and user login. We would like to use a layout similar to Softonic.com with three vertical columns
Software review and download page
This page is similar to second page but it should be formatted on two columns with focus on software details, rating, screenshot which is the first area of the page. For easy navigation the details of the software should be structured on tabs .
Questions & Answers and User Page
For these pages we may suggest only similar sites :
answers.com ,makeuseof.com , wikihow.com ,expert-exchange.com
Finding an unique and innovative design for a Q&A community should be the thing that should differentiate us from similar sites. Therefore, this will the keypoint for awarding in this contest.
Remember : First page (Big Search Box) and community area of the site are our bid for succes!
Existing website
The domain an webpage (http://www.softonym.com) is active but we want to have a 100% change of design and technical features. Nothing will be kept.
Example websites
softonic.com, download.com(cnet), brothersoft.com(which is in our opinion too graphically loaded)
Free features
Blind contest

Fast-tracked
We've found some similar contests you might like