Jfox2c got their new web page design by running a design contest: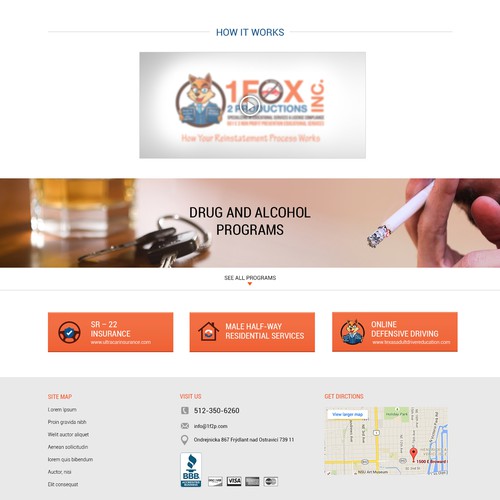 by | Aquarian |
1 Fox Driver, drug and Alcohol Education
Check out Jfox2c's Web page design contest…
Provide referrals driver reinstatement and DPS compliance issues. Provide state approved drug and alcohol classes
elegant, catchy and informative enough to compel community support and services to help sustain the organization
Home - defensive driving- Support Us - Class Registration - Program Services – Testimonials- – How it works - Dismiss My Tickets- Bail Bond About Financials DOEP 15. Hr. Ticket & Warrant dismissal (https://goo.gl/OsqyAX) (https://youtu.be/dh_ii1GU9v ) I was Jailed How it works Statistic's 12 hr. DWI Mission Statement: Our mission is to provide quality, state approved, drug and alcohol prevention education services. By providing on-site inspections for youths and underserved individuals, support for lifestyle changes, and help to obtain or reinstate suspended driver's licenses, 1F2 supports the multi-faceted needs of our clients. Our goal as a nonprofit consists of a community-based approach, seeking to socially and economically boost individuals in order to reduce recidivism rates and eliminate drug and alcohol related fatalities—particularly when it comes to drunk driving. - There are incentives to a driver reinstated, that are facing an alcohol or drug related offense, that have suffered the negative consequences of an invalid license, increasing emotional intelligence that promote safer drivers, decreasing the number of crashes, saving lives, says 1 Fox 2." The Purpose of Outreach: We are hoping to introduce the community to an outstanding program that needs help from individuals like you to help eliminate drunk driving. Until now, 1 Fox 2 has operated without state or local funding of any kind. As such, your involvement will go far to help our local communities. This is because each crash, each death, and each injury not only affects the lives of those directly involved, but the lives of family members, friends, classmates and countless others. Economically speaking, we all help pay the $132 billion dollar price tag drunk driving leaves behind each and every year. Together, we can take preventative measures to eliminate drunk driving—but we sincerely need your help to do so. Program History: In 2001, recording artist Jackie Harrington founded 1 Fox 2 Productions as a non-profit arts and music education organization. The program became a thriving success for over a decade. However, after years of working with the community and learning how devastating the effects of drunk driving had been to so many families, particularly here in Travis County, Harrington began to shift her focus. Our organization then began working with drug and alcohol agency Consult ED in an attempt to help individuals directly affected by the consequences of substance abuse. Since that time, Harrington has completed the University of Texas' paralegal program and has partnered with providers who are licensed through State Health Services as a DWI educational program instructors. Harrington regularly collaborates with local licensed attorneys who help supervise the program and offer their services to help get program members back on their feet, often working pro-bono. Client Portal- Program Accreditation: Since 2012, Consult ED's Substance Abuse Program has partnered with 1 Fox 2 Productions, offering drug and alcohol education programs, accredited through TSHS (Texas State Health Services). This program serves to teach individuals how to develop a plan for positive life changes, the potential consequences of drug and alcohol abuse, and the lasting effects of drunk driving. Instructors provide completion certificates—15 hr. for drug offenders and 12 hr. for DWI offenders—which fulfil state requirements to reinstate a suspended license. Our accreditation is recognized by and works in conjunction with the City of Austin, Travis County Justice System, Department of Public Safety, and the Department of Child Protective Services among others Donation We encourage you become an activist with us today. Information on driving privileges here. We thank our existing supporters here .Driver surcharge program article here. Testimonials here. 1 Fox 2 Productions has a concept. Since 2012 we have designed and implemented two State Approved innovative Drug and Alcohol Education programs. These programs have ultimately resulted in thousands of reinstated driver's licenses in three surrounding cities, Houston, Dallas, and Round Rock, serving these communities and individuals and resulting in real change. Our Vison is to add additional instructors, enhance the program with a Youth Tabaco Awareness license, and to serve the Spanish speaking community with our programs. We are also hoping to provide public, free-to-the-community lectures in the near future. Please tell us how much you will give us to bring our vison to your city in cash endowment, City building, and operational funding to further execute this vision. No gift size is too small at helping to accomplish this goal. Why There Is A Need: City records indicate that DWI arrests increased by nearly 24% over the past three years. As well, according to research done by MADD, 75% of people with suspended licenses from drunk-driving offences continue to drive. These numbers can be greatly improved by implementing proper forms of preventative education. Our program has a significate impact on the number of lives saved from repeat drunk driving offenders. According to Jim Miller, former Municipal Judge, the number one reason people can't find or maintain a job, is due to invalid driver's licenses. This leads to incredibly high recidivism rates for those unable to get help managing their lives, as they become trapped in a cycle of joblessness and incarceration. The impact of this cycle is felt throughout the entire community. Why We Need You: Your support can make a big difference in sustaining our programs and helping us grow to fill the needs of surrounding counties and communities. Our program, the 15 DOEP, 12 DWI the Driver Reinstatement Program, has helped to improve the lives and reduce unemployment for over 1,200 drivers annually. These are individuals completing programs and getting their licenses reinstated. Our numbers speak for themselves—we offer results, but we can't continue to do so without the help of donners like you. We feel that getting the community involved with the agency—instead of subsidizing the programs with fees—will help to further our impact. Not only would this allow more disadvantaged individuals to enroll in the program, but also help to foster a sense of community and brotherhood. Objectives and Program Measures: We assist in reinstating suspended and illegal drivers—only after DWI education programs have been completed. We do this in order to reduce recidivism rates and future drunk driving accidents. Additionally, this helps to remove employment barriers and thereby strengthen local families and communities. Measures: The Driver Reinstatement Program requires annual reporting of enrolled students, progress of students completing of program, and evaluations of gained knowledge with pre-program and post-program examinations. DWI Statistics: In 2014, 9,967 people were killed and approximately 290,000 were injured. Each crash, each death, each injury impacts not only the person in the crash, but family, friends, classmates, coworkers and more. Even those who have not been directly touched help pay the $132 billion yearly price tag of drunk driving. But together we can eliminate drunk driving. EACH DAY, PEOPLE DRIVE DRUNK MORE THAN 300,000 TIMES, BUT ONLY ABOUT 3200 ARE ARRESTED (MADD) EACH DAY, PEOPLE DRIVE DRUNK MORE THAN 300,000 TIMES, BUT ONLY ABOUT 3200 ARE ARRESTED EACH DAY, PEOPLE DRIVE DRUNK MORE THAN 300,000 TIMES, BUT ONLY ABOUT 3200 ARE ARRESTED NATIONAL DEPARTMENT OF TRANSPORTATON) IN FATAL CRASHES IN 2014, THE HIGHEST PERCENTAGE OF DRUNK DRIVERS WAS FOR DRIVERS AGES 21 TO 24 (30 PERCENT), FOLLOWED BY AGES 25 TO 34 (29 PERCENT) AND 35 TO 44 (24 PERCENT). National Highway Traffic Safety Administration. "Traffic Safety Facts 2014: Alcohol-Impaired Driving." Washington DC: National Highway Traffic Safety Administration, 2016. http://www-nrd.nhtsa.dot.gov/Pubs/812231.pdf THE AVERAGE PERSON METABOLIZES ALCOHOL AT THE RATE OF ABOUT ONE DRINK PER HOUR. (Michigan State University. "Basic Alcohol Information." East Lansing, MI: Michigan State University, 2003.) A STANDARD DRINK IS DEFINED AS 12 OUNCES OF BEER, 5 OUNCES OF WINE, OR 1.5 OUNCES OF DISTILLED SPIRITS, WHICH CONTAIN THE SAME AMOUNT OF ALCOHOL. (National Highway Traffic Safety Administration. "Alcohol Screening and Brief Intervention in the Medical Setting." DOT HS 809 467. Washington, DC: National Highway Traffic Safety Administration, July 2002.) IMPAIRMENT IS NOT DETERMINED BY THE TYPE OF DRINK, BUT RATHER BY THE AMOUNT OF ALCOHOL DRUNK OVER TIME. (Insurance Institute for Highway Safety. "Q&A: Alcohol: General." Arlington, VA: National Highway Insurance Institute for Highway Safety, March 2012.) IN 2013, A TOTAL OF 1,149 CHILDREN 14 AND YOUNGER WERE KILLED IN MOTOR VEHICLE TRAFFIC CRASHES. OF THOSE 1,149 FATALITIES, 200 (17%) OCCURRED IN ALCOHOL-IMPAIRED-DRIVING CRASHES. OUT OF THOSE 200 DEATHS, 121 (61%) WERE OCCUPANTS OF VEHICLES WITH DRIVERS WHO HAD BACS OF .08 OR HIGHER, AND ANOTHER 29 CHILDREN (15%) WERE PEDESTRIANS OR PEDALCYCLISTS STRUCK BY DRIVERS WITH BACS OF .08 OR HIGHER. NHTSA data query, 2013. IN 2014, 16 PERCENT OF ALL DRIVERS INVOLVED IN FATAL CRASHES DURING THE WEEK WERE DRUNK, COMPARED TO 29PERCENT ON WEEKENDS. National Highway Traffic Safety Administration. "Traffic Safety Facts 2014: Alcohol-Impaired Driving." Washington DC: National Highway Traffic Safety Administration, 2016. http://www-nrd.nhtsa.dot.gov/Pubs/812231.pdf DRUNK DRIVING INVOLVEMENT IN FATAL CRASHES IN 2014 WAS ALMOST FOUR TIMES HIGHER AT NIGHT THAN DURING THE DAY (34 VERSUS 9 PERCENT). National Highway Traffic Safety Administration. "Traffic Safety Facts 2014: Alcohol-Impaired Driving." Washington DC: National Highway Traffic Safety Administration, 2016. http://www-nrd.nhtsa.dot.gov/Pubs/812231.pdf ADULTS DRANK TOO MUCH AND DROVE ABOUT 121 MILLION TIMES PER YEAR - OVER 300,000 INCIDENTS OF DRINKING AND DRIVING A DAY. Centers for Disease Control and Prevention. "Alcohol-Impaired Driving Among Adults — United States, 2012." Morbidity and Mortality Weekly Report. August 7, 2015 / 64(30);814-817. http://www.cdc.gov/mmwr/preview/mmwrhtml/mm6430a2.htm IN THE UNITED STATES, THE NUMBER OF DRUNK DRIVING DEATHS HAS BEEN CUT IN HALF SINCE MADD WAS FOUNDED IN 1980. National Highway Traffic Safety Administration. "Traffic Safety Facts 2014: Alcohol-Impaired Driving." Washington DC: National Highway Traffic Safety Administration, 2016. http://www-nrd.nhtsa.dot.gov/Pubs/812231.pdf EVERY DAY IN AMERICA, ANOTHER 27 PEOPLE DIE AS A RESULT OF DRUNK DRIVING CRASHES. National Highway Traffic Safety Administration. "Traffic Safety Facts 2014: Alcohol-Impaired Driving." Washington DC: National Highway Traffic Safety Administration, 2016. http://www-nrd.nhtsa.dot.gov/Pubs/812231.pdf DRUNK DRIVING COSTS THE UNITED STATES $132 BILLION A YEAR. MADD 5th Anniversary Report to the Nation, 2011. http://www.talklikemadd.org/books/statereport/#/4/ IN 2013, 28.7 MILLION PEOPLE ADMITTED TO DRIVING UNDER THE INFLUENCE OF ALCOHOL - THAT'S MORE THAN THE POPULATION OF TEXAS. Substance Abuse and Mental Health Services Administration, Results from the 2013 National Survey on Drug Use and Health: Summary of National Findings. Rockville, MD: Substance Abuse and Mental Health Services Administration, 2014. http://www.samhsa.gov/data/sites/default/files/NSDUHresultsPDFWHTML2013/Web/NSDUHresults2013.pdf TEEN ALCOHOL USE KILLS 4,700 PEOPLE EACH YEAR - THAT'S MORE THAN ALL ILLEGAL DRUGS COMBINED. Hingson, Ralph and D. Kenkel. "Social and Health Consequences of Underage Drinking." In press. As quoted in Institute of Medicine National Research Council of the National Academies. Bonnie, Richard J. and Mary Ellen O'Connell, eds. Reducing Underage Drinking: A Collective Responsibility. Washington, DC: The National Academies Press, 2003. SINCE 1980 MADD HAS SAVED 300,000 LIVES ...AND COUNTING. (Fell, 1995 and NHTSA FARS data) Full cite: Fell J.C. (1995), "What's New in Alcohol, Drugs and Traffic Safety in the U.S.?" National Highway Traffic Safety Administration, Proceedings of 13th Conference, International Council on Alcohol, Drugs and Traffic Safety, ICADTS, NHMRC Road Accident Research Unit, University of Adelaide, Australia, C.N. Kloeden and A. J. McLean (Editors), T95, pp 329-335 ONLY TIME WILL SOBER A PERSON UP. DRINKING STRONG COFFEE, EXERCISING OR TAKING A COLD SHOWER WILL NOT HELP. (Michigan State University. "Basic Alcohol Information." East Lansing, MI: Michigan State University, 2003.) ABOUT ONE IN SEVEN TEENS BINGE DRINKS, YET ONLY 1 IN 100 PARENTS BELIEVE HIS OR HER TEEN BINGE DRINKS. About Us Program Services How it works Video. Occupational Driver's License Refusal to take blood Breath of Urine Test Refusal to take Test 1st offense 2nd offense 3rd offense 180 days 2 -year suspension 2- year suspension Occupational Driver's License +If your driver's license is suspended, expired, cancelled or revoked, let us help you get back on the road legally as soon as possible. If you are stopped while your driver's license is suspended, you risk an arrest or ticket for driving while license invalid or suspended, and it can result in an additional driver's license suspension and more surcharges (each conviction for driving while license suspended carries a $750.00 surcharge payable over three years). Sometimes, our clients have multiple reasons for not being eligible for a Texas driver's license. Sometimes, no occupational license is necessary because your license can be reinstated immediately by payment of money or by some other means. We will research your situation, and give you all of your options. Often, an occupational driver's license is best and quickest solution. For example, an occupational license may be the only remedy because your suspension has a definite end date and cannot be removed until it expires. Sometimes, even though your suspension might be ended by payment of outstanding tickets and removal of traffic warrants, an occupational license will allow you to work and earn money in the interim to give you the time and funds necessary to resolve the outstanding issues. License suspensions are either by the Texas Department of Public Safety, or by a court. DPS suspensions are referred to as departmental suspensions. Departmental suspensions can occur for a number of reasons, such as: More Reasons to need an Occupational Driver's License • Unpaid surcharges (resulting from convictions for no license, driving while license suspended, no insurance or for a DWI) • Being convicted of at least four moving violations in any 12 -month period • Driving after your license is expired (inability to renew can result from outstanding ticket matters, such as one or more outstanding failures to appear or fines) • Getting a new conviction during a suspension or invalid period • Being uninsured and at fault in an accident • Breath or blood test refusal or failure following an arrest for driving while intoxicated • Unresolved matters from another state • Expired driver's license with other outstanding problems preventing renewal • During consultation you are provided with copies or your records and expert knowledge to take the necessary steps to reinstate your DL with or without our services. Blue Impaired driver Red Legally Drunk Weight Number of Drinks 1 2 3 4 5 6 7 8 9 100 0.032 0.065 0.097 0.129 0.162 0.194 0.226 0.258 0.291 120 0.027 0.054 0.081 0.108 0.135 0.161 0.188 0.215 0.242 140 0.023 0.046 0.069 0.092 0.115 0.138 0.161 0.185 0.207 160 0.02 0.04 0.06 0.08 0.101 0.121 0.141 0.161 0.181 180 0.018 0.036 0.054 0.072 0.09 0.108 0.126 0.144 0.162 200 0.016 0.032 0.048 0.064 0.08 0.097 0.113 0.129 0.145 220 0.015 0.029 0.044 0.058 0.073 0.088 0.102 0.117 0.131 240 0.014 0.027 0.04 0.053 0.067 0.081 0.956 0.108 0.121 Consultation - APPLICICABLE toward services, we conduct data research of driving record, DPS suspension notice, driver's license ID numbers, surcharge accounts, traffic tickets' to determine whether you are eligible to reinstate your regular driver's license or have an occupational DL need You may have obtained tickets while not having your driving license or ID in your possession, that may not appear under your known personal Dl or ID, needing more extensive research in order to determine reinstatement procedures. 12 Hr. DWI: DW1 – Classes - State approved DWI classes certified by Texas Department of State Health Services. This class is a requirement in Texas for any person convicted of a first offense DWI. 15. Hr. drug Offender: DOEP CLASSES - provides state approved Drug Offender classes certified by Texas Department of State Health Services. This class is for individuals who have been charged with a misdemeanor or felony drug offense. Ticket and warrant dismissal: Tickets are only eligible for dismissal through pre – trail stage. Exceptions may apply if there hasn't been a plea entered determination is required to determine eligibility. Affordable bail bonding – We are fast, reliable and affordable. Art. 17.01. DEFINITION OF "BAIL". "Bail" is the security given by the accused that he will appear and answer before the proper court the accusation brought against him, and includes a bail bond or a personal bond. Acts 1965, 59th Leg., vol. 2, p. 317, Ch. 722. Art. 17.02. DEFINITION OF "BAIL BOND". A "bail bond" is a written undertaking entered into by the defendant and his sureties for the appearance of the principal therein before some court or magistrate to answer a criminal accusation; provided, however, that the defendant upon execution of such bail bond may deposit with the custodian of funds of the court in which the prosecution is pending current money of the United States in the amount of the bond in lieu of having sureties signing the same. Any cash funds deposited under this Article shall be receipted for by the officer receiving the same and shall be refunded to the defendant if and when the defendant complies with the conditions of his bond, and upon order of the court. SR – 22 INSURANCE - In the United States, an SR-22 (sometimes referred to as a certificate of insurance), a vehicle liability insurance document required by most state Department of Motor Vehicles (DMV) offices for "high-risk" insurance policies. Links: Texas department of Public Safety ( Texasdepartmentofpublicsafety) Online defensive driving ( Texasadultdrivereducation.com) Release Me Check your tickets ( www.Texasfailuretoappear.com)
Consistent colors to match company logo
Every design category has flexible pricing for all budgets. Web page design starts at €549.
Full copyright with production-ready files for digital and/or print.
It all began with a design brief.
A quick, interactive guide helped them understand their design style and captured exactly what they needed in their web page design.
Designers across the globe delivered design magic.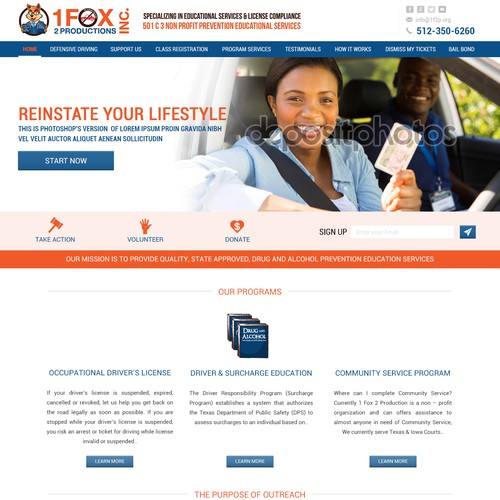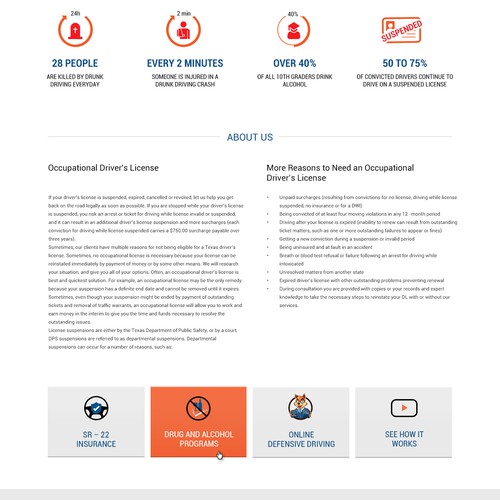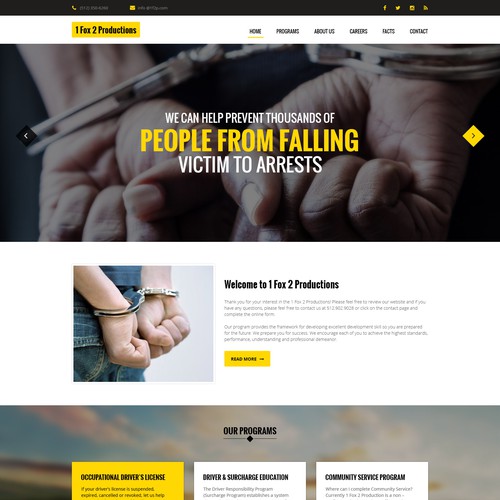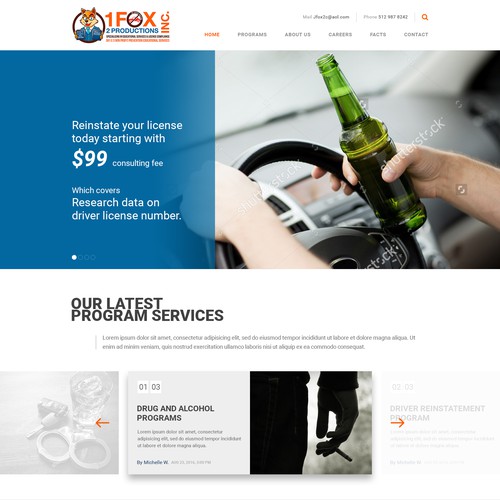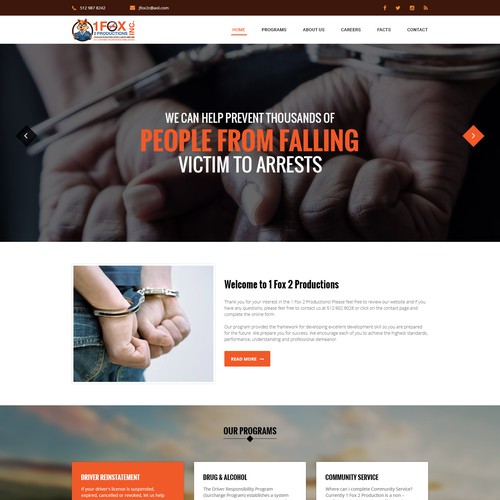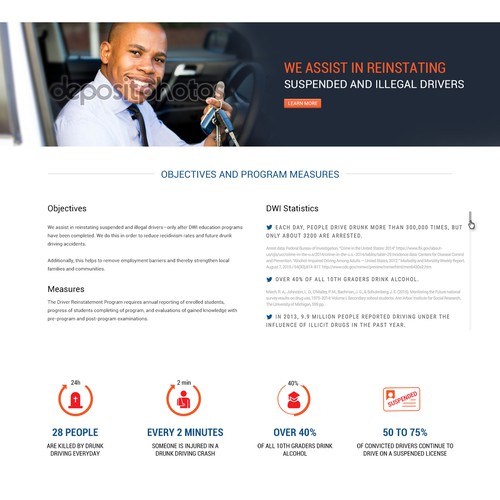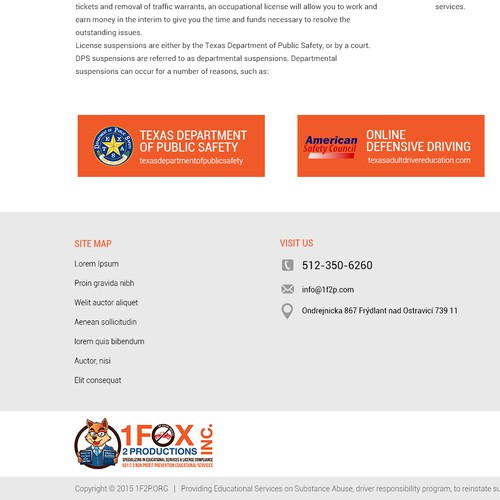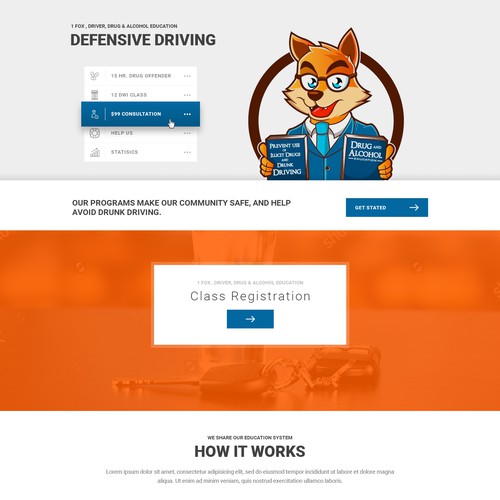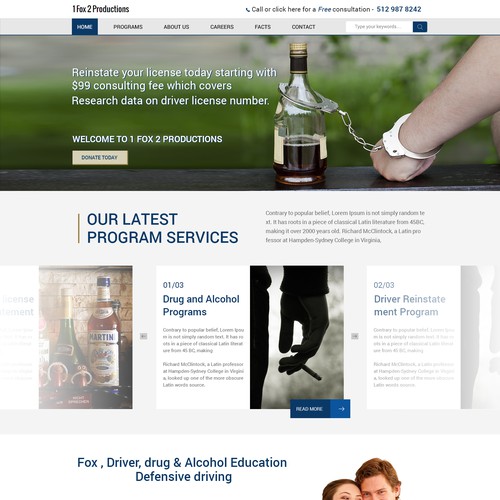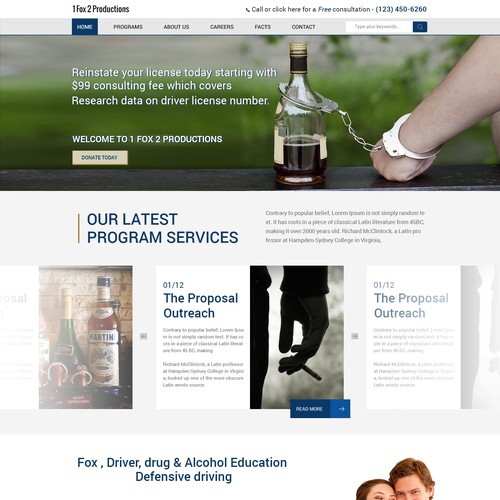 You'll get loads of concepts from experienced designers around the globe.
Work with talented, professional Web page design designers to turn your ideas into reality.
Select your favorite custom Web page design (Or two! Or three!). And the design is all yours.
Jfox2c collaborated with designers to refine their ideas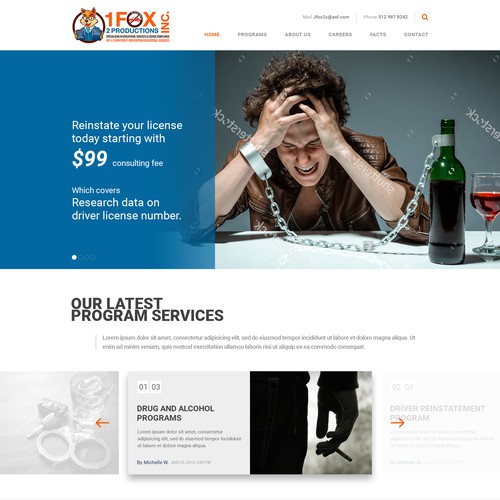 Rate designs
When design entries come in, you can rate them so designers know what you're looking for in your logo design.
Give feedback
99designs has great collaboration tools so you can pinpoint and capture your ideas
And then… they selected a winner!
Along the way, they met lots of talented designers…
We think contests are a super fun way to get design.
Recently completed contests:
Check out other education design inspiration